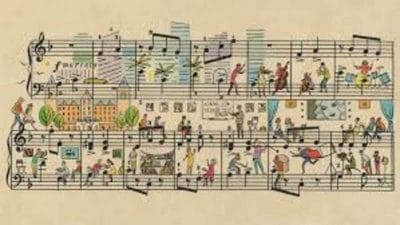 Many music composers want to break into the French film market, which is known the world over for its steady production stream of art films, as well as its "cultural exception", aimed at protecting films with a French touch.
What is the state of play? What avenues can music composers explore, in order to be retained as part of the below-the-line crew on French film productions?
1. Understanding the dynamics of the French film market: a "how-to" guide for film music composers
In 2012, Vincent Maraval, one of the founders of top dog French production and distribution company Wild Bunch, published a column in "Le Monde" entitled "French actors are paid too much!", which got a lot of attention. In substance, Maraval decried a doomed system, in which the French above-the-line personnel (such as the director, the screenwriter and the producers) and, in particular, French actors, were benefiting from inflated salaries and remunerations, while the receipts made by French theaters on such French film productions had gone down 10 times in the last year or so.
To prove his point, he cited the payment scale for French film stars (such as Vincent Cassel, Jean Reno, Marion Cotillard, Gad Elmaleh, Guillaume Canet, Audrey Tautou, Léa Seydoux), ranging from 500,000 Euros to 2 millions Euros on French film productions, while the same actors command salaries of only 50,000 Euros to 200,000 Euros when they work on American film productions. Apparently, French actors are among the best paid in the world, even ahead of most American movie stars. Maraval cited as culprit the direct subsidy system (pre-sales by public TV channels, advances on receipts, regional funding), to which French cinema is eligible, but most importantly the indirect subsidy system (mandatory investment by private TV channels). 
Seven years down the line, Maraval's statement still rings true as nothing has changed: the above-the-line crew, in particular French actors, still syphons most of the available budget of French film productions. Indeed, in order to obtain financing from TV channels – which upper middle class managements despise the plebe's taste for reality TV shows such as "La Star Ac", yet remain slaves to it – French film producers must belly dance in front of, and prove to, the likes of France Télévisions and TF1, that bankable and locally popular French actors are attached to their film productions.
The takeaway for film music composers, who are all part of the below-the-line crew, and therefore come after French actors in the pecking order, is that the financial pot is tight, on French film productions, as far as they are concerned.
Therefore, what is the margin of negotiation of film music composers, when schmoozing their way with French film directors and producers, to get a job on set?
2. Being able to sell yourself as a film music composer aspiring to do work on French film projects
As brilliantly explained by Anita Elberse in her book "Blockbusters", the entertainment business works around a "winners take all" economic model, where only the 1 percent thrive. The situation described by Maraval above is a gleaming example of that, where French actors command salaries which are even higher than those paid to most American movie stars on Hollywood film projects. As a result, French film projects are uber costly, because not only do producers have to allocate at least 70 percent of their budget to salaries paid to fickle French film stars, but also production costs in France are very high (due to labour costs, in particular prohibitively expensive social security contributions, a 20 percent standard VAT rate, stiffly work regulations, etc.). 
As a result, music composers are left to fend for themselves when pitching for work on French film productions. They can only count on their standout back catalogues of music compositions and recordings, to advertise their skillsets, as well as their own gifts of the gab, to become part of the chosen few.
Indeed, while all French actors, with the notable exception of Jean Dujardin who is managed by his own brother and lawyer, are represented by a handful of French agents, who have total and absolute control on the talent acting pool in France, film music composers struggle to get representation in other European countries and/or in Hollywood, let alone in France. Indeed, only a handful of French music composers, such as Alexandre Desplat, Nathaniel Méchaly and Evgueni Galperine have proper representation, with agents located both in Paris and Los Angeles. However, 99 percent of music composers, active on the French film market, are unrepresented and can only rely on their inner capabilities and charm, to befriend a rising French film director and/or shrewd French film producer, and hence be given the top music job.
This is a hard task for most, but especially for music composers who are often introverted and socially-shy people.
The attitude of French music supervisors, who work on behalf of French film production companies such as EuropaCorp, in order to get them original music scores commissioned and made per film project, does not help either. Indeed, upon receiving a new assignment, their first port of call is to contact French agents and tap their internal roster of music talent, using such agents as gatekeepers and "quality controllers" of the French film music market.
As a result, only 1 percent of the film music composers' pool available on the French film music market gets to participate in tenders for French film productions, leaving the remaining 99 percent out of reach … and out of their depth.
3. The winning formula: leveraging the French state subsidy system to your advantage, as a film music composer aspiring to work on French film productions
When approaching French film producers, film music composers – especially foreign ones – need being completely on top-of-things, soft funding wise.
As explained in my daily-read article "How to finance your film production?", many nations have attractive tax and investment incentives for filmmakers, whereby individual regional and country legislation unables film producers to subsidise spent costs for production.
France is no exception to that, with tax finance structured in the following manner:
for non-French film productions, the Tax Rebate for International Productions ("TRIP") is a tax rebate which applies to projects wholly or partly made in France. It it selectively granted by the French national centre for cinema ("CNC") to a French production services company. TRIP amounts up to 30 percent of the qualifying expenditures incurred in France: it can total a maximum of Euros 30 millions per project. The French government refunds the applicant company, which must have its registered office in France. "Thor" (Marvel Studios), "Despicable Me" and "the Minions" (Universal Animation Studios), as well as "Inception" (Warner Bros), have benefited from TRIP.
for European film co-productions, the "Crédit d'impôt cinéma et audiovisuel" ("CICA") is a tax credit that benefits French producers for expenses incurred in France for the production of films or TV programmes. The CICA tax credit is equal to 20 percent of eligible expenses – increased to 30 percent for films for which the production budget is less than Euros 4m.
 
3.1. TRIP: making sure to get the points needed to pass the cultural test
To qualify into the TRIP, a film project must:
be a fiction film (live action or animation, feature film, TV, web, VR, short film TV special, single or several episodes of a series, or a whole season, etc.);
pass a cultural test, and
shoot at least 5 days in France for live-action production (unless VFX/post).
For film music composers, the aspect of TRIP relevant to them is the cultural test: they want to make sure that, should the film producer and director select them as music composer and author on the project, they will fulfil the criteria to pass that TRIP cultural test.
The document entitled "9. Grille de critères de sélection pour une oeuvre de fiction" sets out that, in order to be eligible, a project must obtain at least 18 points. Criteria n. 10, on page 2, sets out that at least one of the music composers must be:
a French citizen;
a citizen of a European country (that includes all citizens of EU member-states), or
a French resident,
for the film project to score 1 point out of the 18 necessary for eligibility.
Therefore, film music composers who are really serious about getting into the French film sector must meet one of the above criteria, to secure this 1 point for the TRIP's cultural test, which is the maximum amount of points even a French citizen music composer could ever contribute towards the film project.
3.2. Co-productions: making sure to get the points needed on the French and European scales
European co-productions can benefit from France's film financing system, notably the French selective schemes, such as, inter alia:
CICA, the automatic support for the French producer and distributor from French TV channels and Free-to-air networks (as Canal +, TF1, France Televisions, ARTE and M6 must invest a percentage of their annual revenues on French and European films);
automatic subsidies referred to in French as "compte de soutien" or "soutien automatique", where each qualifying movie producer or distributor receives automatic subsidies in proportion to the film's success at the French box office, and also in video stores (a percentage of DVD bluray sales revenues) and in TV sales (a percentage of broadcasting rights sales);
French regional funds, and
Sofica funds (private equity).
To qualify into the French tax credit and subsidies system, as an official co-production, the French co-producer will submit the project to the CNC.
The CNC is responsible for assessing applications for qualifications of a feature film, and uses the following criteria:
two scales are used to determine whether it is European enough and whether it is French enough (European scale and French scale). Films must score enough points on both scales;
when the co-production is made within the framework of a bilateral treaty, the citizens of the other country qualify as European. On this note, France has entered into bilateral co-production agreements with many countries.
Film music composers must therefore check whether employing them as a music composer on the film co-production would allow the project to get some points on the French and European scales above-mentioned.
Under the European scale, it is necessary for the authors (including the music composer), primary actors, technicians and collaborators to the creation of the film, to be:
French citizens;
Citizens from a EU member-state;
Citizens from the country with which France has a bilateral co-production agreement in place, or
Residents in France, in another EU member-state.
Therefore, film music composers who are serious about getting their foot in the door, must meet at least one of the criteria above. If they do, and out of the 18 points in the European scale, they will provide 1 point as a qualifying music composer in the European official co-production.
Under the French scale ("barème du soutien financier"), it is necessary for the project to score 100 points; except for the notable cases of Franco-Spanish, Franco-Italian and Franco-British co-productions, which do not have to comply with any minimum number of points to be eligible for financial support ("soutien financier").
Music composers can bring up to 1 point, on this French scale, for fiction films, and up to 5 points, for a documentary, for example.
In order to obtain those points, under the French scale, it is necessary that the assignment agreements of the copyright, as well as the employment agreement of the film director, be governed by French law.
Therefore, film music composers will qualify under the French scale, for financial support ("soutien financier") of the official European co-production, if the assignment agreement of copyright on the songs and tracks that they write and produce are governed by French law.
From a business standpoint, and in order to bolster the chances of getting the tax credit CICA, which comes from French TV channels and Free-to-air networks (as Canal +, TF1, France Televisions, ARTE and M6 must invest a percentage of their annual revenues on French and European Films), it is really worth highlighting and playing up any TV experience and clout that a film music composer may have. This should appeal to any French film producer, since they face a lot of competition from other French film producers, in order to get the best tax credit support from French TV channels, when pitching their film projects to them.
3.3. French regional funds: agreeing to assigning your copyright under a French language, French law-governed assignment agreement
As mentioned above, European official co-productions, but also – of course – French film productions, can benefit from the support and subsidies of French regional funds, such as:
There is no points system in place, for any of these four French regional funds. However, Ile de France Authority Cinema and audiovisual support and Provence Alpes Côte d'Azur Creation and production film fund, documentary support (all stages), animation support, do have a cultural test in place.
As far as film music composers are concerned, the only requirement under these two cultural tests are that the film music composer would enter into a French language, French law-governed agreement, relating to the transfer of his/her copyright in the film soundtrack, to the France-based film production company. Film music composers do not need to have French citizenship, or be a French resident, to contribute towards the film project successfully passing the cultural test of either of these two French regional funds.
Therefore, the best way film music composers can ensure that their contributions to the film project will be weighting in a positive manner towards securing regional funding for the film production, is by having a polished and up-to-date CV listing all their musical compositions, awards and achievements, a catalogue of their best artistic work in good order, both online (soundcloud, Spotify, Deezer, etc.) and on CDs; and by contributing with the film director and producer in compiling the information and necessary data for each regional funding submissions.
For example, for the submission to the CNC Support for creation of original music/score ("aides à la création de musiques originales"), film music composers merely have to work with the film director and producer to ensure that they provide together all the deliverables required by the special commission of the CNC, such as the "note d'intention", their respective CVs, and the CDs and DVDs requested.
The CNC, Ile de France Authority and Provence Alpes Côte d'Azur Authority, each request film music composers to enter into a French language, French law-governed agreement, relating to the assignment of copyright on the film soundtrack, with the French film production company.
To conclude, film music composers need to perfectly master the intricacies of the French soft funding system, and therefore skillfully demonstrate to French film producers and directors that, not only do they bring all possible qualifying points in any cultural tests put in place by the French film authorities, but also that they are willing to assign their copyright in their musical compositions and tracks' masters, to the French film production company, under a French language, French law-governed assignment agreement.
To hit the ground running, and facilitate the work of any French film producers, film music composers should already be registered as members of French copyright collecting society SACEM, and French neighbouring rights collecting societies ADAMI and/or SPEDIDAM, if applicable.
Another major bonus would be for film music composers to already be registered with the French Centre des impôts des non-résidents, Inspection TVA, which is responsible for VAT registration of non-resident tax payers, and open a French VAT account. That way, if film music composers are paid service fees and/or a "prime de commande" by the French film production company, they can set out their VAT intra-community number, as well as the French production company's VAT intra-community number, on their invoices. 
Finally, since royalties, commissions, consultancy fees and fees for services performed or used in France, which are paid to a non-resident (either a company or an individual), are subject to a domestic 33.33 percent withholding tax, film music composers need to check whether any double-taxation treaty may be in place, between the country in which they are tax-resident, and France, which would provide full or partial relief of withholding tax on such income sources generated in France.
Be bold, do your homework, and your musical passion, skills and enthusiasm should become a great asset to any French film project and production!
Crefovi regularly updates its social media channels, such as Linkedin, Twitter, Instagram, YouTube and Facebook. Check our latest news there!